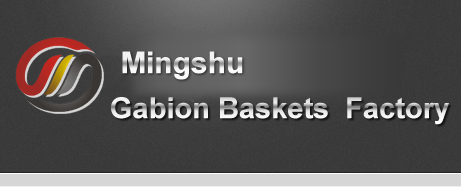 Gabion products are supplied in
various sizes and forms: baskets, cages, mattresses, boxes...

Why do we choose gabions?
Gabions are environment friendly...

Modular Gabions System
We also supply a system solution for your gabion needs…
About Mingshu Gabion Baskets Factory
We produce and export full range of gabion products in the form of boxes, baskets, bags, retaining walls and mattresses, and we are equipped with innovative technology to provide the high quality gabions products and services.
Mingshu gabion baskets are chiefly made of twisted wire mesh with hexagonal opening. The materials can be electro galvanized or plastic coated wire. All kinds of gabions are manufactured under complete quality control system.


Application
Woven Gabions were first used by soldiers in previous centuries for fortification of their barracks and cylindrical Gabions(with rocks) were rolled down the slope at the approaching enemy during war times. The modern square/rectangular Gabion is now used mainly in the Civil Engineering and Mining Industries for retaining walls and for river structures to reduce water flows and prevent soil erosion. We offer expertise related to gabion basket, gabion mattress, gabion cages and boxes, etc.

Our Products