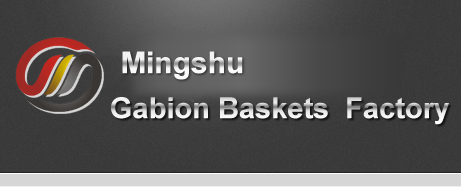 Welcome To Mingshu Gabion Baskets Factory
We can produce Gabions, Gabions Retaining Wall, Gabion Baskets,Gabion Boxes, Gabion Walls, Gabions Design, Gabion Cladding products
Gabion Cages
We have rich experiences in producing hexagonal wire netting and gabion cages of various shapes and specifications. Our major products include wire mesh gabions and baskets that can be filled with stones or other materials against flood, for reservoir closure, hillside protection and other applications. We also offer heavy hexagonal mesh, metal alloy wire mesh baskets, crimped wire mesh and double twisted hexagonal mesh.
Gabion cages are wire containers made of hexagonal wire netting. Wire diameter varies with the hexagonal nettings. For hexagonal wire netting with no pvc coating, the wire diameter ranges from 2.0mm to 4.0mm. For those PVC coated hexagonal wire netting, the outside diameter ranges from 3.0mm to 4.0mm. The wire of the outside frame edge is one wire gauge thicker than the wire used for hexagonal wire netting.
Features:
Economic. Just fill the stone into the gabions and seal it.
Simple installation. No special technology needed.
Weather proof under natural destroy, corrosion resistant.
No collapse even under big scope of deforming.
Sludge in the stones is good for plant growing. Mixed to form a integrity with the natural environment.
Good permeation can prevent the damage by hydrostatic.
Less transport freight. It can be folded together for transport and further installation. Gabion cages applications:
Control and guide of water or flood
Flood bank or guiding bank
Preventing of rock breaking
Bridge Protection
Water and soil protection
Coast protection
Seaport engineering
Strengthening structure of soil
Protection
What are Gabions ?
Gabions are wire mesh boxes, containers or baskets filled with rock to prevent soil erosion and to retain/contain soil particles. They reduce water velocities and re-capture river bed sediment in streams. Flat Gabions, called River or Reno Mattresses are widely used in river courses where soil erosion is a problem over a wide flat area and a large area needs to be protected against soil loss/scour. They are used mostly in the civil engineering industry especially in the construction of roads, however recently due to their environmental benefits are being used in many various applications and industries.
They were even recently used to contain chickens for transportion in the back of a vehicle to the reseller with suprising success !