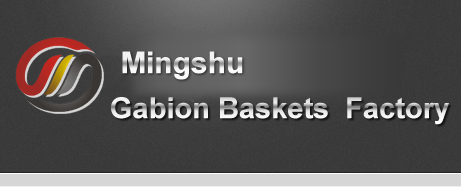 Welcome To Mingshu Gabion Baskets Factory
We can produce Gabions, Gabions Retaining Wall, Gabion Baskets,Gabion Boxes, Gabion Walls, Gabions Design, Gabion Cladding products
Gabions Design
Design Procedure
The design procedure for gabions is as follows. It uses the same roughness relationships developed for riprap.
Step 1. Determine channel slope, channel shape, and design discharge.
Step 2. Select a trial (initial) mattress thickness and fill rock D50, perhaps based on available sizes for the project. (Also, determine specific weight of proposed stone.)
Step 3. Estimate the depth. For the first iteration, select a channel depth, di. For subsequent iterations, a new depth can be estimated from the following equation or any other appropriate method.
As with riprap linings, the ability to deliver the expected channel protection depends on the proper installation of the lining. Additional design considerations for gabion linings include consideration of the wire mesh; freeboard; proper specification of gradation and thickness; and use of a filter material under the gabions.
The stability of gabions depends on the integrity of the wire mesh. In streams with high sediment concentrations or with rocks moving along the bed of the channel, the wire mesh may be abraded and eventually fail. Under these conditions the gabion will no longer behave as a single unit but rather as individual stones. Applications of gabion mattresses and baskets under these conditions should be avoided. Such conditions are unlikely for roadside channel design.
What are Gabions ?
Gabions are wire mesh boxes, containers or baskets filled with rock to prevent soil erosion and to retain/contain soil particles. They reduce water velocities and re-capture river bed sediment in streams. Flat Gabions, called River or Reno Mattresses are widely used in river courses where soil erosion is a problem over a wide flat area and a large area needs to be protected against soil loss/scour. They are used mostly in the civil engineering industry especially in the construction of roads, however recently due to their environmental benefits are being used in many various applications and industries.
They were even recently used to contain chickens for transportion in the back of a vehicle to the reseller with suprising success !