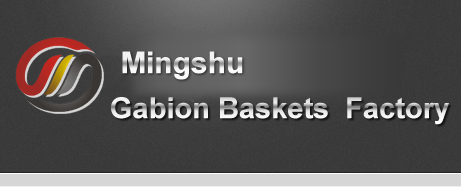 Welcome To Mingshu Gabion Baskets Factory
We can produce Gabions, Gabions Retaining Wall, Gabion Baskets,Gabion Boxes, Gabion Walls, Gabions Design, Gabion Cladding products
Gabion Cladding
Gabion Construction are able to supply and install cladding for many building applications.
This application of gabions is relatively new, the purpose is to achieve a textured finish to buildings and other structures.


Normally a thin vertical face of gabions is secured to the main body of the building with clamp bars. Sizing of the cells of the units is important for constructional and aesthetic reasons.
Where a gabion facing is required with a sloping face, trapezoidal gabions can be used with the face inclined and the rear face vertical. It may be possible to design this type of cladding as an effectively free standing wall not physically tied back to the main structure.

What are Gabions ?
Gabions are wire mesh boxes, containers or baskets filled with rock to prevent soil erosion and to retain/contain soil particles. They reduce water velocities and re-capture river bed sediment in streams. Flat Gabions, called River or Reno Mattresses are widely used in river courses where soil erosion is a problem over a wide flat area and a large area needs to be protected against soil loss/scour. They are used mostly in the civil engineering industry especially in the construction of roads, however recently due to their environmental benefits are being used in many various applications and industries.
They were even recently used to contain chickens for transportion in the back of a vehicle to the reseller with suprising success !