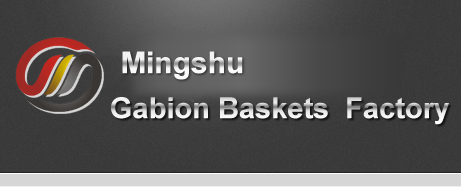 Welcome To Mingshu Gabion Baskets Factory
We can produce Gabions, Gabions Retaining Wall, Gabion Baskets,Gabion Boxes, Gabion Walls, Gabions Design, Gabion Cladding products
Welded Gabions
Weld mesh gabion are manufactured from cold drawn steel wire. It is then electrically welded together and Hot Dip Galvanised or Alu-Zinc coate, ensuring a longer life. The meshes can then be organic polymer coated to safeguard against corrosion and other weathering effects, especially when the gabions are to be used in salty and highly polluted environments.
Welded mesh gabions are also available in Cylindrical and Sack form with diameters of 0.65m, 0.95m and in lengths of 2.0m and 3.0m.
Welded gabions units filled on site with hard, durable stone to form mass gravity retaining structures. Due to their inflexibility, welded wire mesh gabions are generally not considered suitable in areas susceptible to differential settlement, or in water courses.
Welded wire gabions are available in a variety of wire diameters and unit sizes to meet project requirements.
In common with all gabions during installation, all welded units need internal bracing wires and to be overfilled to allow for settlement of the granular rock fill.
Coatings:
Zinc coated;
Galvanized;
Plastic coated green (fusion bonded coating).

Weight of filling materials
Material

Average Kg/cu.m

Basalt

1650

Brick

1240

Broken Concrete

1340

Granite

1600

Limestone

1440

Sandstone

1390

Shingle

1500

Slag

1500
What are Gabions ?
Gabions are wire mesh boxes, containers or baskets filled with rock to prevent soil erosion and to retain/contain soil particles. They reduce water velocities and re-capture river bed sediment in streams. Flat Gabions, called River or Reno Mattresses are widely used in river courses where soil erosion is a problem over a wide flat area and a large area needs to be protected against soil loss/scour. They are used mostly in the civil engineering industry especially in the construction of roads, however recently due to their environmental benefits are being used in many various applications and industries.
They were even recently used to contain chickens for transportion in the back of a vehicle to the reseller with suprising success !