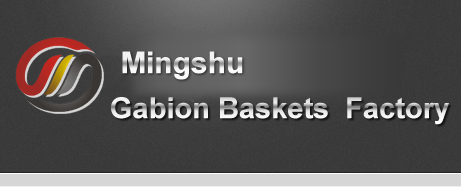 Welcome To Mingshu Gabion Baskets Factory
We can produce Gabions, Gabions Retaining Wall, Gabion Baskets,Gabion Boxes, Gabion Walls, Gabions Design, Gabion Cladding products
Gabions Retaining Wall
Gabions Retaining wall products are cylindrical biodegradable sleeves manufactured from Diamond, bound together with twine and reinforced with galvanized or PVC coated wire mesh. Gabions retaining wall is used to reduce sheet erosion and create a microclimate for vegetation establishment. All mild steel wire material is heavily zinc coated. When used in more severe environments, a thick PVC coating is extruded over the galvanized wire to provide added protection. Reinforced gabions for retaining wall uses are manufactured in hexagonal woven wire Mesh. For some lighter applications, gabions may be supplied without the mesh reinforcement.

| | |
| --- | --- |
| | |

Gabion mesh case can be filled with stones, especially the round stone or the fresh stone which was produced from the quarry. If you need the material with special gravity, Gabion mesh certainly can be your first choice. For persistency of the structure, these stones must be able to resist the climatic change. Gabions filled with stone are reinforced in certain styles to form a retaining wall.

What are Gabions ?
Gabions are wire mesh boxes, containers or baskets filled with rock to prevent soil erosion and to retain/contain soil particles. They reduce water velocities and re-capture river bed sediment in streams. Flat Gabions, called River or Reno Mattresses are widely used in river courses where soil erosion is a problem over a wide flat area and a large area needs to be protected against soil loss/scour. They are used mostly in the civil engineering industry especially in the construction of roads, however recently due to their environmental benefits are being used in many various applications and industries.
They were even recently used to contain chickens for transportion in the back of a vehicle to the reseller with suprising success !